2015/12/23
CinemaHall's news
CG Weekend Minsk — let it be!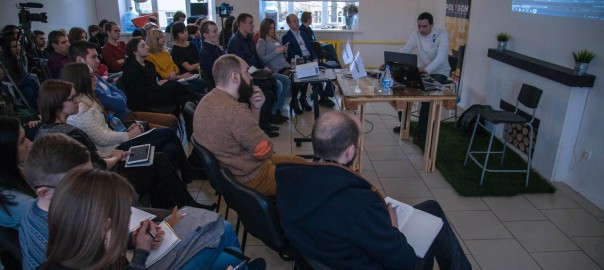 There  was held a conference of computer graphics, 3D animation and VFX in Minsk.
On 12th-13th of December in Loft Project Balki, Minsk, there was held "CG Weekend 2015″ International Conference.

The participants were able to attend master-classes by leading experts in computer graphics, 2D and 3D animation, design, post-production, to take part in the drawing of valuable prizes from the sponsors of the conference.
The program of the conference was opened by master class "About illustration and start in this profession" by Alexander Podgorny (Educational and practical center of computer graphics Polygon). Alexander Podgorny is a graphic artist and illustrator, specializing in creation of cartoon characters, digital, creative concepts and gaming worlds.
Anyone who was interested in the CGI process control, production, were waiting for the presentation by guests from Moscow and San Francisco – Cerebro.  Cerebro is a company of software solutions for the management of companies in any audiovisual fields. Key product features are easy commenting audiovisual images/video files, as well as built-in communication system and file storage.
The sponsor of "CG Weekend" Autodesk company has prepared gifts for all participants of the conference:  two master-classes in working in 3ds Max and Maya programs.
The first one was for beginners: "Maya: from structure to cunnings" from the artist-designer of computer graphics Nicholas Kopeyko.
The second one was for those who had been already familiar with the software solutions:  "Common mistakes made in modeling; the methods of troubleshooting in 3dsmax and Maya packages" from a Autodesk certified specialist, 3D-artist in Wargaming company, co-founder, instructor and curator of  GameDev direction in Polygon school – Dmitry Ivanov.
What is the concept art and sketching;  the essence and peculiarities of the concept artist profession; how to make sketches  of silhouettes in Adobe Photoshop and Alchemy programs, more and more interesting things were presented to the participants at the master-class by a concept artist and CG school teacher of concept-art and plastic anatomy Vladislav Moroz (Multschool).
The specialist in visual and special effects, artist and designer of computer graphics Oleg Paklin (Andrew Polupanov's Minsk film school-studio) has presented "Matte Painting" master-class.
About Motion design, its goals and objectives, and how to start working as a motion-designer, the participants were able to learn at the master-class by Nikita Melnikov, a motion-designer, co-founder of  " Studio Roj" motion–design studio.
2D, 3D animator, CG generalist in «VipLine»  animation studio Vadim Gradich has held master-class «Pipeline production of characters animation in 3D».
Further among the participants of the conference were raffled prizes from such sponsors of "CG Weekend 2015" as Cerebro Inc., Polygon, Andrew Polupanova's  Minsk film school-studio.