2013/12/18
CinemaHall's news
"CinemaHall" General Assembly – Let it be!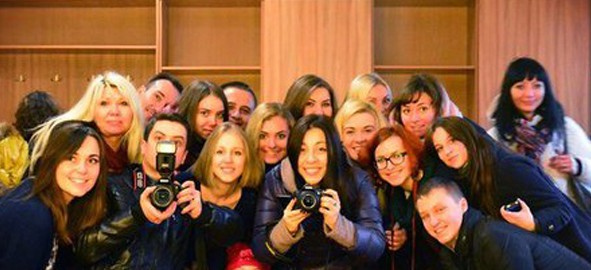 CinemaHall – perspective and rapidly developing organization. All our success is a huge work of the young and talented team.
November 30 – December 1 in Kiev there was held the General Assembly of the International Organization «CinemaHall».
The two-day event brought together more than 30 team members from more than 20 cities of Ukraine (Kiev, Dnepropetrovsk, Lugansk, Odessa, Zaporozhye, Sumy, Ivano-Frankivsk, Khmelnitsky, Chernigov, Vinnitsa, Zhitomir, Simferopol, Mariupol, Donetsk, Lutsk , etc.), and  Moldova (Kishinev).
General partner of the event was one of the best youth hotels in Kiev  – a three-floor "The Hub", and that is where the main events of the Assembly and Ukrainian Youth Hostels Association took place.
Most of the team members  had knew each other only by dialogue in Vk, Facebook and mobile phone, that's why to meet each other was incredibly enjoyable!
4- hour teambuilding training was held by a brilliant psychologist, CinemaHall team member, Andrew Zhelvetro: all team members were able to not only get to know each other better, but also to feel as one big family. Everyone was pleasant shocked – it turned up that "CinemaHall" –  there are poets, travelers, polyglot, athletes, expert on hatha yoga, the leader of the musical band and other interesting personality! And inspite of the versatility, everyone shares their love to cinema and "CinemaHall"!
Traditionaly, "CinemaHall" congratulates the team members with birthdays – so birthday people could drink coffee / tea from cups with the logo of the organization and wish.
First day, it was a master class of special effects from VFX supervisor, from the company «Postmodern» – Artem Khakalo (video: Natalie Mogilevskaya "On the Edge", movie "Slumdog children",  "Living in the twilight" , etc.). Team members have learned a lot of new things, many of them want to do post-production seriously.
At the work session of the Assembly it was discussed the current projects of the organization, ways of optimization and improvement, "CinemaHall" new projects and programs in 2014 and many other important issues.
Team members were rewarded according to performance and achievements of the summer- autumn period and inside team contests.
After the dinner, everyone had a short break before the coolest karaoke disco party, organized only for team members of "CinemaHall"!
Enjoyable event of the second day was a wonderful birthday at the website editor of "CinemaHall" – Marina Maricheva.
In addition, team members were presented by nice gifts – movie discs – winners of the international film festivals.
The whole "CinemaHall"  team had an excursion to the largest film studio in Ukraine and one of the largest film studios in Europe – «PRO-TV» studio.
Today, «PRO-TV» company has a great technical base for TV and movie shooting, video and sound editing, recording music studio, sets of modern lights and Grips, special park of vehicles and trailers, dressing rooms.
In recent years «PRO-TV»  produced several successful television series: "Lady Luck" – "Lady bum", "Lady Mayor", "Russian drug", "Remember and love","Utesov – the song of a lifetime", "9 lives of Nestor Makhno","Return of Mukhtar -2″,"Return of Mukhtar – 3″,"Thank you for everything", "Thank You For everything – 2″,"Thank you for everything – 3″, "Five minutes to the subway", "Magic love", "The Taming of the obstinate".
To note we've never met the more pleasant and professional staff – a company organized transfer, CEO Viktor Prikhodko led the tour and answered all the questions of the team members.
It was incredibly pleasant to know that one of the most important «PRO-TV» principles – keep own word and do not violate the agreements with partners; studio correspond to the highest requirements and international standards .
After the tour, it was a meeting with a wonderful talented journalist and anchorperson - Yanina Sokolova ("News Hour", "Movies with Yanіna Sokolova", "Morning on Pyatomu"). Yanina told about the work of anchorperson, about how to achieve success on TV, interesting  stories with the Movie Stars , and answered questions from the team.
The final was a meeting with the directors of the Ukrainian anthology of «CinemaHall». Focus group told responses, directors named movies that it would be interesting to implement .
Time has flown by breakneck speed, no one wanted to leave. These two days were filled with a variety of emotions, it seemed like a fairy tale, so friendly and memorable.
It's wanted to do more interesting and definitely to meet up in the spring, at the next General Assembly of «CinemaHall», which , incidentally, will be attended by representatives of «CinemaHall» from many other countries – Russia, Poland, Belarus, Great Britain, etc.