International Film School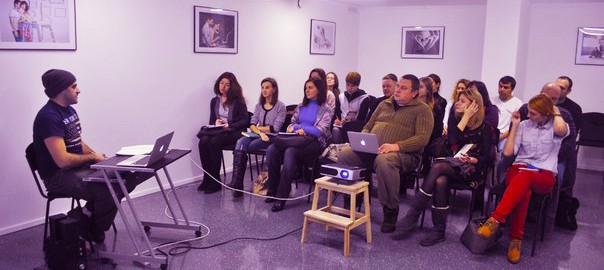 ABOUT THE PROJECT:
International Film School – educational project of "CinemaHall" INGO: master-classes, lectures, workshops by professionals in film and TV. 
"CinemaHall" invites you to participate in the project!
Details:
Master-classes and lectures are mostly held online on a special platform, which is successfully used by more than 180,000 companies, including Stanford University, Uber, UCLA, DreamWorks and others.
A citizen of any city and any country can take part in the project,
Law participation fee,
Lecturers from different cities and countries of the world!
To take part in the project:

You must have a strong desire to study, get new knowledge, meet new interesting people from different cities and countries,
You will need Computer/Tablet/Smartphone (supports Mac, Windows, Linux, iOS and Android) with access to the Internet,
After filling the application form, we will inform you about the workshops and activities of the project!
There have been held such master-classes and courses:

Producing. Lecturer: Lubomyr Levytskyi.
Screeptwriting. Lecturer: Mikhail Savin.
Directing. Lecturers: Anna Akulevich and Dmitry Moiseev.
_ _ _
About lecturers:
Mikhail Savin – screenwriter; one of the most famous scriptwriters of Ukraine; one of the writers "Quarter 95″ Studio; screenwriter of such films and TV projects as "Love in the City", "8 First Dates", "8 new appointments", "Rzhevskij against Napoleon" and others.
Lubomyr Levytskyi – Top 3 most successful directors and producers of Ukraine, director, producer and screenwriter of the film "Tіnі nezabutih predkіv", "Adit", "Schengen", "Lombard" etc., music videos (clips for Potap, New School, Kvіns, SOUTH, XS, Vіtalіya Kozlovsky, Natalії Morozova, Kamalіa, Іnni Voronovoї, Olga Yunakova, Andrіya Kravchuk, 95 quarter, etc.).
Anna Akulevich – film and TV director, writer and producer of TV shows, TV programs, TV series, 6 years of professional teaching experience at the University of Screen Arts, lectures on filmmaking, acting skill, a member of the International Film Festival Jury in Italy.
Dmitry Moiseev – film director; director of the film "Such Nice People", winner of numerous international film festivals.
Questions, propositions, additional information:
Testimonials:
Elena Shevchuk

I would like to thank "CinemaHall" for an excellent opportunity to plunge into the world of cinema without leaving home.
I really liked it, so I would like to continue to participate in such events.
It is also very convenient to get access to the master-class recording after the master-class, if it was not possible during the broadcast be online. Plus thanks for an additional material. All together I have a very positive impression, a great desire to continue to be in the world of cinema!
Thanks again to Anna, "CinemaHall",  and to everyone who participated! I look forward to future projects!
- -
Sergey Sofiyak

Thank you very much for the master class for the additional materials! It was an excellent master class, I learned a lot of things!