2013/12/22
CinemaHall's news
Olga Vershinina: "My fancies turned into profession and became my sense of live a long time ago…"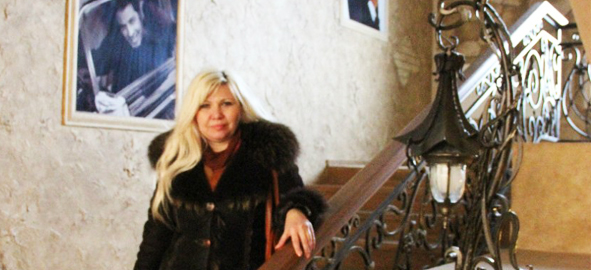 Olga Vershinina (Novikova) – chairman of "AyDaMy", organizer of art-club "ArtBard", organizer of bard songs festival "Children of September", organizer of art-camp "Feast of the spirit", movie contest "KiTY", leader of creative youth project "Art-laboratory", head of the International Organization "CinemaHall" department in Donetsk and Mariupol.
«CinemaHall» journalist Victoria Redko decided to find out how to be creative, positive and always enjoy what you do.
Victoria: I saw your photos on your Vk.com web-page. Each photo is like an isolated little story. New characters, costumes…but your smile is your best adornment. It is clearly seen that you are a merry and cheerful person. Tell about your fancies and how you spend your free time.
Olga: My fancies turned into profession and became my sense of live a long time ago ….It used to be just a hobby: National theatre. I have been an actress of the Russian National theatre since the age of 15. Last year I created an album in social networks "Berry period or 20 years on the stage". Why 20? Because I haven`t had a chance lead a creative way of life for almost 10 years. I was married. At my husband`s instance left school in St. Petersburg, where I studied to be a stage director.
My divorce game my freedom to create back. One of the actors I know personally said: "A woman becomes a marvelous actress when she has some serious dramas in her life".
Victoria: That is true. I agree
Have you been a theatre actress since the age of 15? Than you probably remember your first performance… What did you feel before you first appeared on the stage?
Olga: My first performance on the stage was in the extras in the spectacle based on the piece of Nodar Dumbadze "I see the sun". At that moment I thought that my part was not less important, than the main one…in reality the extras were very restricted. Then I had a part of an old lady in the piece "Royal hares". It is funny to recall it now. I was only 16! I spoke in an old lady`s voice and tried to imitate a stooped old witch!!!
Victoria: Really? One has to be very talented to play such a part! I remember my performances at school. Even if my part was about just standing on the stage I still worried a lot. I think it takes some time to stop being afraid of the stage.
Olga: The fear of the stage never fades away. You always worry. But once you get on the stage, you just forget about it!
Once I said in one of the interviews that we are always sincere on the stage, otherwise viewers will not believe us. However in life we play a part more often!
Every year on by birthday I try to make a show for my friends. For instance, last year on my birthday I decided to make a movie "Theatrical story", where I have a part of an elderly actress Colombina Ivanovna. It was great!
Victoria: You organized «КiTY film-festival». Tell us how it was. What obstacles did you face preparing it?
Olga: There was one very romantic story in my life. My theatre was at the theatre festival.
He told me that he loved me. A crazy love affair started. He wrote music and poems, but sang those songs only among his friends. I decided to help him to make his first steps on the stage. He became the winner of the regional bard song festival immediately. I also took a fancy for a bard song and started taking a part in an organizing committee of the bard song festival and organizing different musical events. As a result, I started writing music myself. And my first performance as an author was a success! I won the first prize at the festival for my song "A story of one love". Then I wrote more new songs and he was my accompanist, my arranger… Soon our creative union fell apart. But I continued writing bard songs and organized with my friends my first festival "Children of September". Not many people believed that I would do it, because the festival was organized for my own savings and small deposits of my friends. It was a marvelous festival, an assembly of authors. The festival was visited by my friends from Kiev, St. Petersburg, Moscow, Kharkov, Poltava, Simferopol, Donetsk, Zaporozhe! I was a real feast for a good song! That is how I got a creative team of like-minded people and friends at that festival. All of us have fresh ideas, but we work on new projects together! Sometimes my friends call me "idea hamster"!
One day my friends offered me to organize a cine-art studio. I thought a lot and had some doubts whether I actually need it or not. As a result a project "Art laboratory" started.
Victoria: One may call you not just an "idea hamster". You are also a "generator of a creative energy, inspiration"…
So the project "Art laboratory" became a festival "KiTY", didn`t it?
Olga: We created an actor`s studio and a director`s studio. The guys started making movies and cartoons, started attending film-festivals and coming back as prizewinners. At the same time we organized art-festivals and art-camps. The first film contest "KiTY" we organized for our guys, so that they had a chance to show their first works…
And now there is the third film-festival with the participation of professional authors from all over CIS. All of a sudden, but expectedly. There are moments when I feel weak, depressed, moody and I feel like all I do is wrong and I am not really capable of anything…and at moments like these I hear my phone ring, my friends call me and say that what I do is huge – I help people fulfill themselves, excite our country town despite all kinds of talks and criticism. And I understand that there is no way back. I cannot stop. The people that believe me follow me! And I have no right to lose nerve!
Victoria: The main thing is that you believe in what you do. That is why people follow you. What are your plans for the future? Are you going to move to Kiev? After all CinemaHall is already here…at least its main staff.
Olga: Last year I had a strong desire to move to Kiev, but something stopped me. And this year I have got an offer from "CinemaHall". I mean, I was looking for some interesting offers and I found one.
I understand that this project will not only help me to realize my ambitions and projects, but it will also help our organization to become more successful, being a part of the big team. I have found what is interesting for me – the company, where opportunities for a creative person with organizational skills are infinite. The Lord leads me by the path of creativity, which is sometimes hard and challenging…but it is my path, it is just mine.
Victoria: Our organization has already got lots of talented and creative people together, considering that we are still developing and improving ourselves.
Olga: Also…I love people very much. I used to have really difficult periods in my life. It was hard for me to deal with them. But my friends, my self-cultivation and work with a spiritual advisor helped me. I understood the main thing – first you must get to love and accept yourself, and love other people of course. I do everything with love in my life. A life of love!
Victoria: However you have a very difficult task – you are trying to put Ukrainian cinema and theatre on the new high-quality level.
What we see at the cinemas does not always, to put it mildly, satisfy us. Regrettably, Ukraine almost does not produce good films. Maybe we simply do not see them? How do you think, does our cinema have future?
Olga: It is a bald statement that I am helping our cinema and theatre to kneel up. It is more likely that I am turning the youth to the art of cinema.
This year we have received more than 100 works for the festival. The major part of them were the works of young professional Ukrainian authors! We have very talented directors, camera-men, script-writers and actors! And it is not our fault that we are not enough supported by producers! But I think that everything is in our hands! In fact one of the programs of "CinemaHall" is about promoting young Ukrainian authors. I think that our professional and tight-knit team will be able to solve all kinds of problems…not only those about attracting producers to Ukraine! Ukrainian cinema exists…we only need to help it spread its wings!
Victoria: A person, who does his best to turn the youth to the art of cinema, absolutely believes in its bright future, doesn`t he?
And finally, success formula from one of the most creative and active members of "CinemaHall" team!
Olga: Live by your soul, listen to your heart, do what you love to do, live with faith and of course, don`t be lazy or afraid of anything! WE ARE DOING JUST GREAT NOW! (that is my keynote!!!).