Yuriy Zhuravel: I Value the Plot, the Performance…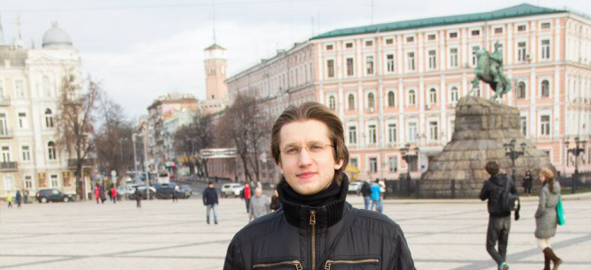 An interview with one of the most talented and long-standing members of the CinemaHall team – programmer Yuriy Zhuravel.
CinemaHall became a successor of the DNU movie club, the president and the founder of which was Ilya Svidler.
Ilya once said in an interview: "The idea of creating CinemaHall came to me, when I was on the jury of a youth movie festival. There was a film spoiled by technical drawbacks, but otherwise it was great. So I decided to create a place where young people without professional education could gain the basic knowledge of shooting quality film, and professionals could find a team. Basically it is the first organisation in Ukraine, specialising in informal film education".
And here is Lyubov Levina's interview with one of the most talented and long-standing CinemaHall team members – programmer Yuriy Zhuravel:
Lyubov: How did it come to be that a person with a technical, logical mind got interested in cinema?
Yuriy: What does my mind have to do with that? Just like many other people, I enjoy being the centre of attention.
Lyubov: How did you find out about CinemaHall? In which projects did you participate?
Yuriy: It all started with the DNU Movie Club.
Lyubov: What did you do in the Movie Club?
Yuriy: I just visited it, talked to Ilya and somehow became a part of the team.
Lyubov: Tell us about your relationship with CinemaHall. What would you like to do except for the site, programming? What plans do you have together with CinemaHall? Would you like direct or perhaps perform in movies, or study acting?
Yuriy: I would love to try acting. Right now I am happy taking part in CinemaHall projects and having the opportunity to be in different short films, even as an extra. I enjoy watching the filming process.
Lyubov: Who are your favourite actors, actresses, directors? Which movie genres do you prefer? What do you value in films, what can touch you? Can you name a few of your favourite films?
Yuriy: Loui de Funes, Pierre Richard, Keanu Reeves, Jean Reno, Konstantin Khabenskiy, Ivan Ohlobystin, Steven Seagal, Kristina Asmus. There are so many of them, I can't remember every one. As for the genres, I prefer comedy, sci-fi, action, mystery.
I value the plot, the performance, the production design.
What can touch me? A beautiful girl. If I like an actress, I will watch a movie/TV show, paying no attention to the plot and everything else =)
The Matrix, Interstate 60, Nochnoy Dozor, Dnevnoy Dozor, Interny, Taxi, the Fifth Element, Die Hard are some of my favourite movies.
Lyubov: What part would you like to play?
Yuriy: Someone comic or someone business-like, or lyrical.
Lyubov: Great. Tell us something else about yourself.
Yuriy: I want everyone to know that I am single and need a woman's attention =)
I find it hard to talk about my hobbies. My main hobby is my job. I spend 12-16 hours a day in front of the computer. That's why I don't have time to sleep healthy. In general, I like football, fishing and playing chess.
Soon you will get to know other members of the "CinemaHall" International Organization.