"BLOW-UP" Cinema Club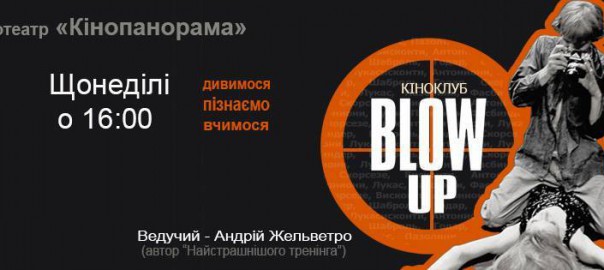 "Kinopanorama" Arthouse Cinema and the "CinemaHall" International Organization present a new project – "Blow-Up" Cinema Club.
"Blow-Up" – a cinema club, which combines elements of psychological training and creative laboratory.
Psychological training? Yes. We'll watch movies, learn to live different life situations with the characters in the film, to pass them through the prism of their own experiences, to answer the important question: "Who am I really".
Creative Lab? Yes. Each spectator becomes not just a participant but also a co-Creator of the film, through discussion with the help of an experienced coach will be looking for solutions to the current problems screen.
Objective: Through immersion in the film to come to grips with the enormous potential which lies within each of us and learn to control events of the life.
The motto of "Blow-Up" is: "Look,  Understand,  Learn".
Look: definitely good movies. Movies with real-life situations. Movies that change minds.
Understand:  own "Me". Watching a movie – a good excuse to assess their views on life. In a short time to live a situation in which we have and get experience. And with a discussion to understand how our personal vision converge or differ from other people's opinions.
Learn:  how to communicate with the audience, to speak, to defend their point of view, listen to others, to separate illusion from reality, to be the authors of their lives.
During "Blow-Up" spectators:
Watch a movie.
Project themselves on the screen.
Reflect on the text to their own lives.
In the film, looking for images that reflect the challenges of their psyche.
Answer the questions.
Take part in the discussion.
Have interesting and informative time.
Who is this club for?
For everyone who loves good cinema.
Who is able to actively perceive, to attend and be excited about.
Who searches, analyzes and compares.
Who's ready to hear the melody of their own soul.
Who's ready to part with their illusions.
Who wants to know themselves.
Furthermore, the "Blow-Up" plans to support various creative initiatives, relevant cultural projects. The cinema club will become a launching pad for young filmmakers, who will show his first steps in cinema to a wide audience and to receive feedback from their first viewers.
Moderator – Andrey Zhelvetro, psychologist, author of "The Faculty," "The Book of Empathy" and "Smart Vegetarianism", the creator of the Most Terrible Training. Moderator's website: http://zhelvetro.com/obo-mne
Famous guests and representatives of various professions: actors, directors, film critics, musicians, journalists, politicians, psychiatrists, mathematicians, doctors, teachers and many others will help moderator to lead the club.
Welcome, it will be interesting!
"Blow-Up" Cinema Club in "Kinopanorama" Cinema:
http://www.kinopanorama.com.ua
01023, Kiev, Shota Rustaveli, 19
(metro station "Sports Palace", "Leo Tolstoy Square")
Assistance and tickets:
(044) 287-30-41
(093) 513-31-04