Open Night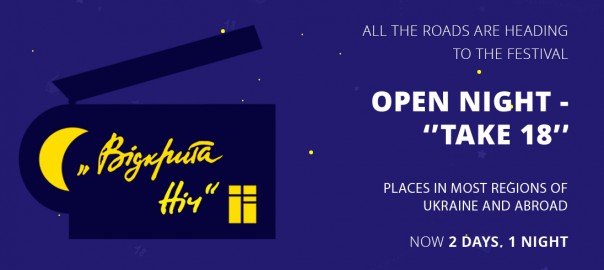 "Open Night" festival is created to discover a new Ukrainian names in cinematography and television. During 18 years, cinema fans gather at the end of the June in the open air to enjoy a new Ukrainian cinematography. The slogan of the festival is:
"We. For us. About us."
Film festival is directed to gather the creative youth from all over the country. Besides the capital of Ukraine "Open Night" opens in several cities with major fully featured platforms. Also, the familiar online stream will be organized in more than 30 cities of Ukraine, in Europe and Canada. Everybody could feel the taste of the cinema night.
  To participate in the festival, it is not necessary to be a professional director. The main criterion is the love of art and an urge to develop Ukrainian cinematography. It is required o follow your idea, keep the traditions of Ukrainian cinematography and inculcate new conceptions of developing of the native film industry.
"Open Night" is a unique laboratory for testing new ideas for Ukrainian cinematography.
The 1+1 media became a partner and co-organizer of the festival in 2014 so the world of cinema and television world became closer. Apart from the film nominations a competition program includes some TV ones.
  This year the festival is extended for two days and one night. Besides the festival film review, the program features the best European student films, master classes of the progressive Ukrainian and European artists and the idea pitching «The Next Big Thing -2015».
  Traditionally, "Open Night" festival encourages everyone to give up sleeping for one summer night and embrace Ukrainian cinematography.